2013年08月07日

READING TECHNIQUES
Written/Edited by: Shanti Esther Bonachita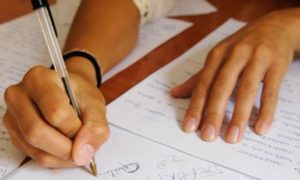 As you take the reading section, the IELTS test makers arrange tricky questions specifically to catch candidates who employ skimming and scanning techniques that make the student thinks that it is really difficult. However, scanning and skimming is not enough if you aim to get a band score of 6.5, 7.0, 7.5++. To be able to do this, one must read and understand the material, and use critical thinking to absorb the passage. Critical thinking in taking the IELTS must require the student to think clearly and critically about ideas and arguments. Through this, you will 'train' yourself to think carefully and understand what other people are trying write. Here are some steps to improve your thinking skills and to do this, as you read an article about something, think about the following questions…
What is the purpose of the article? Is the writer trying to sell a product, persuade the reader about something, raise awareness, give instructions….

What reasons does the writer give? What do I think about these reasons / Could I give better reasons?

What examples does the author give? What do I think about these examples / Could I give a better example?

What statistics does the author use? Are they effective?

What 'experts' does the author introduce? Should I believe a professor from Oxford more than a politician from Berlin?

If there is an experiment, are there enough samples? Was the experiment done in a thorough way?

How does the author use language? Does he / she use 'bad' when perhaps 'awful' would be better? For example "The Chernobyl was bad."
By doing this, you are now evaluating and criticizing what people write and how they write it. If you keep practicing these steps, you will realize that it is easier to improve your views in a more critical way when you give answers. Also, you will also pay more attention to the language, as the writer uses language to build their ideas. It will help you give convincing answers from the questions, give valid reasons and use persuasive answers and get a high mark.
So, grab an article now from the net and search for news or magazine, go to the 'opinion' section. Read articles as many as you can applying the steps you've learned today. And observe how authors write their ideas whether they are specific or general in their opinions.
Enjoy reading!
Question:
Can one successfully study for the test by themself?
a. Yes
b. No
c. Maybe